Back to News
Master Builders of the Future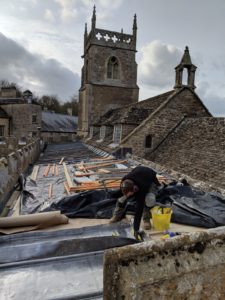 To ensure that this country's historic buildings can be kept in good repair, new generations of skilled tradesmen will always be needed. Here at St. Mary's, 24 year old Matthew Boyle of building conservation contractors Ellis & Co. has had the opportunity to put his training into practice on the roof of the church.   Matthew is undertaking his  Lead Sheet Training Association, Lead Welding and Bossing Course and his experience at Lydiard will help him to progress to a Level 2 course in traditional welding and bossing.  Working alongside experienced colleagues, Matthew has been learning how to accurately measure and shape lead using hand tools (bossing) as well as cutting and welding. Getting this right is vital to ensure the building is watertight.
Next year Ellis & Co. will return to carry out masonry and joinery repairs inside St. Mary's including to the Jacobean and later Victorian pews.  This second phase of repairs will provide more new opportunities for three apprentice carpenters who are undertaking Level 2 and Level 3 NVQs.
Bob Hook, former Head of Training and Standards at Historic England and a trustee of the Friends of Lydiard Park said:
I commend Ellis and Co, the HLF and the St. Mary's conservation project for creating valuable training opportunities for the next generation of craftspeople through apprenticeships, working on the sensitive restoration of this nationally important building. Expertise in using appropriate methods to restore and repair historic buildings is vital to securing their future. It is essential that we maintain a skilled workforce so that our children and our grandchildren's children can continue to appreciate the architectural and art-historical gem that is St. Mary's at Lydiard.
Matthew Ellis, Managing Director of Ellis and Company says:
Modern and historic buildings are entirely different, and historic buildings require approaches, materials and techniques that aren't found in contemporary construction training. So specialist heritage training and experience is vital. At Ellis and Co we only work with historic buildings, so all of our trades team are expected to have or be working to achieve Heritage Skills CSCS cards to keep those specialist skills alive.