Back to News
An interview with Peter Graystone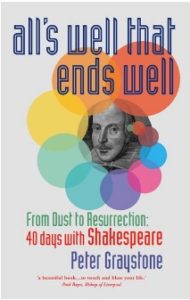 I am really pleased to announce the Author, Peter Graystone will be joining us to promote and share his new Lent Book, All's Well That Ends Well: From Dust the Resurrection – 40 Days with Shakespeare, on Monday 24 January 7.30 pm
I will be asking him questions – if you have any please let me know, and please join us online – see Events for joining instructions.
Revd Capt Clive Deverell
This is how Peter Graystone himself describes the book:
It is a rather unusual Lent book that takes you from the dust of Ash Wednesday to the resurrection of Easter Sunday. Every day I take a speech from a play or a poem, look at the ideas in it, and think about how they relate to the Christian faith. I chase them back into the Bible, and then suggest how they might play out in your own life to give you more joy in believing and more godliness in the way you live your life. Plus I tell the story of Shakespeare's life, and explain what happens in the plays. Oh, and I ought to warn you that it's full of jokes too, because I can't help myself. Sigh!
https://canterburypress.hymnsam.co.uk/books/9781786223548/alls-well-that-ends-well