Back to News
Conservation Transforms St Mary's
On October 10th scaffolding which has filled St .Mary's for much of the year was finally taken down and the results of meticulous conservation work revealed. For the first time visitors can now see the huge progress that has been made in revealing medieval wallpaintings, cleaning the building's decoratively patterned walls and harmonising historic paint schemes in the nave with its Tudor barrelled ceiling, the St. John chapel and south porch.
Conservators Jane Rutherfoord and Eddie Sinclair along with their team and students from across the world have worked intensively throughout the summer, making some exciting discoveries along the way. The removal of 18th century memorial tablets from the nave walls to relocation in the south porch revealed hidden details of the church's St. Christopher wallpainting and an ornamental niche which had been filled with rubble and plastered over, probably at the time of the Reformation. Inside the niche they discovered part of a painted stone head, most likely the remains of a statue of St. Christopher himself. It's hoped this will be displayed as part of the church's new interpretation in 2020.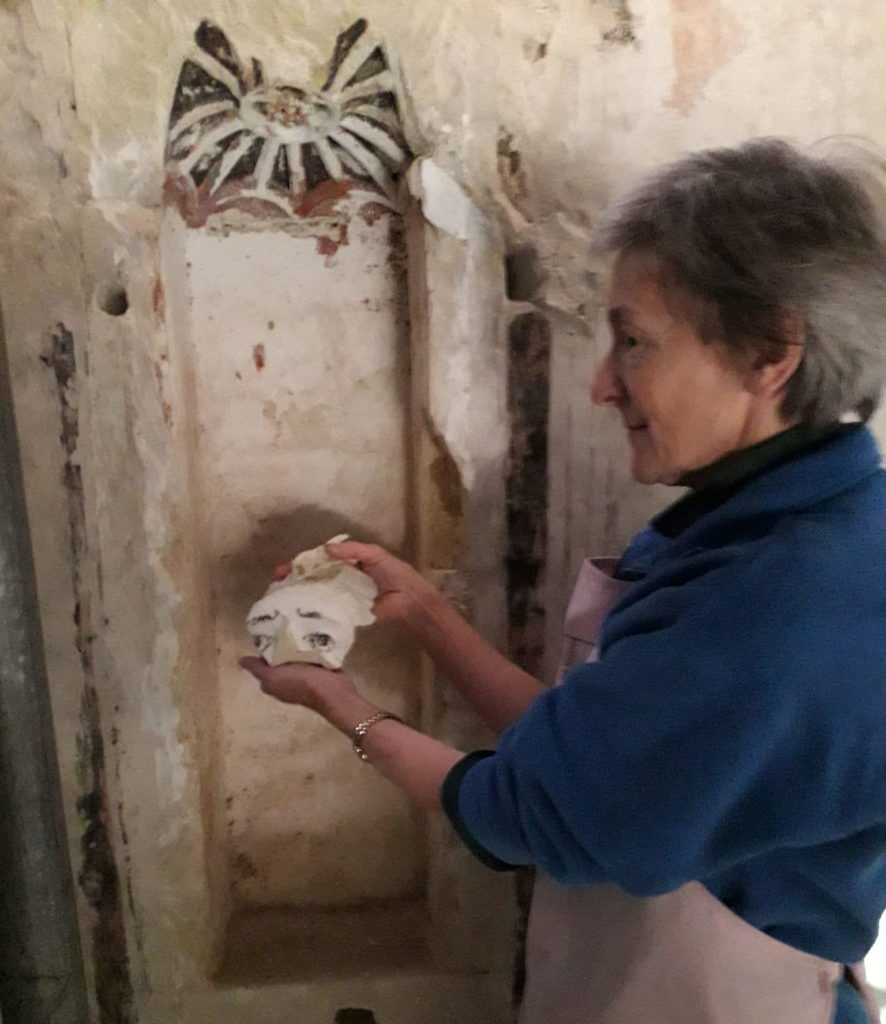 Another exciting feature are two corbels (wooden heads) at either side of the east wall of the nave. There are a whole series of these fascinating faces of men and women in the nave ceiling. Analysis of minute fragments of paint showed that the two corbels on the east wall were originally painted.  Conservator Eddie Sinclair has brought them back to life, faithfully repainting their faces in the style of the day.
St. Mary's is open during the remaining months of 2019 and New Year's Day 01 January 2020, after which it will be closed for three months for the final phase of conservation and repair work.
Opening times are:
Fridays: from the 11 October to 29 November, 11 am – 3 pm
Saturdays: 11 am -4 pm
Sundays: 1.30 pm – 4 pm (including Sunday morning worship)