Back to News
Conservation training attracts students from across the world
This summer, conservation students and newly qualified conservators have travelled from across the UK and from many parts of the world to take up a unique opportunity for hands-on training at St. Mary's Church.  This is a rare opportunity for students who have worked in different areas of conservation (from ceramics to easel paintings), to gain practical experience. This includes working on a wide variety of historic surfaces and monuments throughout the building.
24 students have been engaged by St. Mary's, some for up to 10 weeks. They have travelled from America, Australia, Denmark, Germany, India, Italy, London, Spain, Switzerland and Wales.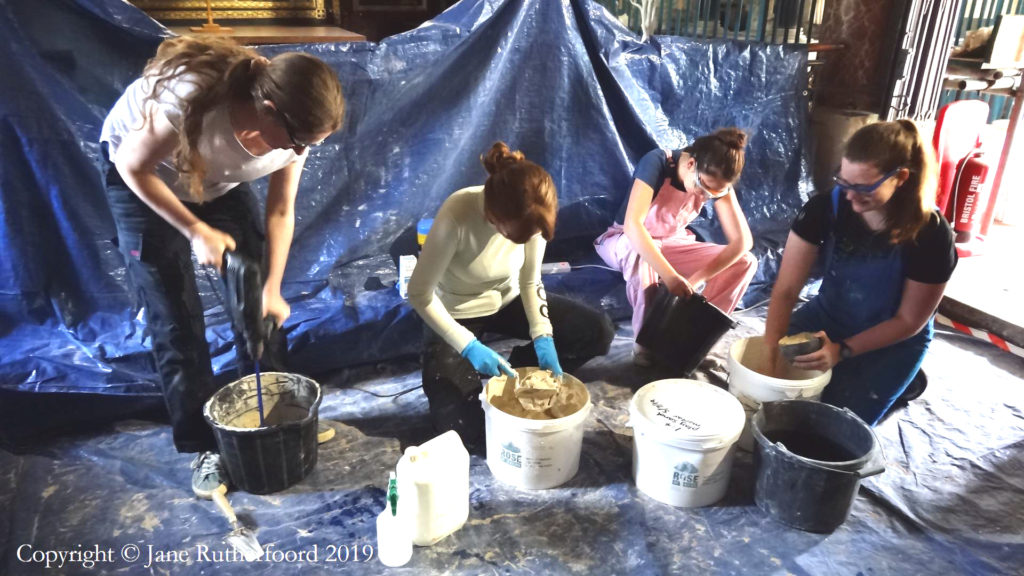 Charlotte Okparaike is studying for BA Conservation City & Guilds of London Art School. She says:
This is a fantastic opportunity to gain hands-on skills in a live project that cannot be gained in a classroom or lab setting. The range of surfaces we work on and techniques taught here at St. Mary's, Lydiard Tregoze, by two very experienced lead conservators provide a truly invaluable experience.
Fellow trainee Katarina Stiller, all the way from California State University in the US says:
This is an incredibly unique and hands-on experience. It is truly inspiring to be able to work with and learn from such a diversely talented yet universally passionate team of conservators, volunteers, and community leaders. It really represents what art conservation means for me:  a gloriously intricate, globally conscious field combining technical expertise with cultural appreciation and community collaboration.
Under the guidance of St. Mary's wall paintings conservator, Jane Rutherfoord and polychromy (painted sculptural surfaces) conservator Eddie Sinclair, students are learning about the preparation of materials, the removal of overpaint, how to stabilise very fragile paint  layers and  to repair losses. In the case of wall paintings they are discovering how to recognise the tell-tale signs of paintings surviving beneath layers of plain limewash.